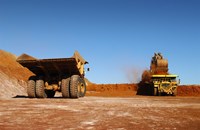 Forum Medical Group complete a large amount of Pre Employment Medicals for major global and Australian based resource companies and Australia's leading recruitment companies.
Our entire Medical process has been designed and overseen by an Occupational Physician so you as a client can have total security in the knowledge that any fitness determination is appropriate and confers the lowest possible risk to your business.
We have recognised a gap in the current healthcare market for high quality and personalised service, offering flexibility and scalability to better meet the changing requirements in current economic times.
​At Forum Medical Group we pride ourselves on providing high quality Medical evaluations and unprecedented turnaround times.

Basic Pre-Employment medical examinations.
Comprehensive Pre-Employment medical examinations.
OGUK / OEUK medicals.
Queensland Coal Medicals (CMWHS)
NSW Coal Order 43 medicals.
Rail CAT 1 2 3 medicals.
Minerals, Mines and Quarries medicals.
Health Surveillance medicals.
HUET / TBOSIET medicals.
Functional capacity & musculoskeletal assessments.
Queensland CMWHS Spirometry.
Executive medicals.
Commercial drivers medicals.

Dangerous goods medicals.

Laboratory & Instant drug & alcohol screening.

LCMS Confirmation.

Breathalyser.

Audiometry testing ( Workcover & Standard )

Spirometry testing.

Quantitative respirator fit testing.

Ear plug fit testing.

ECG.

Point of care testing.

Fatigue management and heat stress.